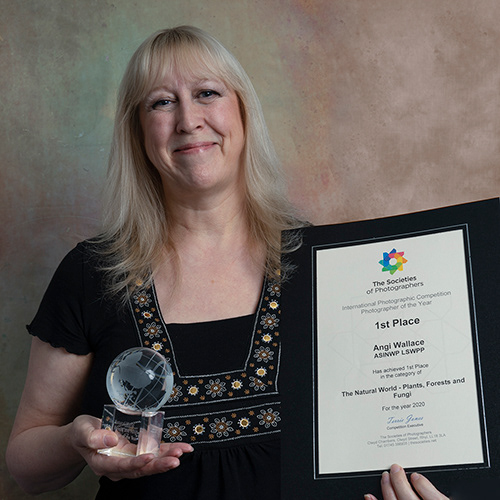 I am a photography enthusiast with a passion for close up and macro, nature, creative portraiture, landscapes and gig photography. Over 17 years of enjoying the hobby I relished learning various genres, concentrating initially on capturing images of amphibians and reptiles ( another hobby of mine). More recently I have been concentrating on floral, fungi and other close up nature images as well as learning still life. In 2023 I am starting to concentrate more on focus stacking macro.
I produce a lot of my photography from home, using a mini studio set up in our dining room, simply because my health does not allow for energy demanding activities - this does not stop me from producing beautiful images but does restrict what I am able to do and how often. I mostly photograph personal projects for my own enjoyment and to enter competitions.
I am often asked if I run workshops, give camera club talks etc. I used to, but at present I do not, I hope to in the future as my health allows and will update here if I start to do so.
My biggest achievements to date are winning Photographer of the year with the National photographic society for the last 3 years, winning International Garden photographer of the year's Still life category 2021  and 2022 ( with 6 images placed, including 3rd), Winning 1st and 2nd place in Camera Jabber Photographer of the year 2022, winning Plant and fungi photographer of the year 2020 with the SWPP, winning 1st place in the WPE flowers category for 2022  and winning Amateur photographer magazines Close up round in 2020. As well as gaining an associateship with the SWPP in nature photography.
2023
February Highly commended image in IGPOTY Beauty of plants
February Highly commended image in IGPOTY Abstract 
February 2023 1st place and Gold award in WPE Flowers category 2022
February  2023 two silver medals in the  WPE Macro category 2022
January Highly commended image in SWPP Avante garde
January 2023 2 images shortlisted in Macro category and 1 in the In camera artistry category of the SWPP Photographer of the year. Results in March
JANUARY 2023 1st and 2nd place in Camera Jabber photographer of the year
2022
October 2022 1st place and 2 commended in IGPOTY Still LIfe project
August 2022 2nd place in Amateur photographer magazines Close up competition with "The Kiss"
August 2022  Winner Photographer of the year with the NPS ( National photographic society - 3rd year in a row)
August 2022 3rd place in IGPOTY Macro category
August 2022 4 images Shortlisted in Amateur photographer magazines Close up round
January 2022 Shortlisted in CUPOTY Challenge - Two of a kind with two images
2021 - IGPOTY - Still life project - 1st place, 3rd place, Finalist, 2x Highly commended & 1 commended
2021 - 1st & 2nd place Beauty in nature competition, SWPP
2021 IGPOTY Shortlisted in Macro category
2021 CUPOTY 2 images Shortlisted in Floral & Fungi category
2020 National photographic society - Photographer of the year
2020 1st place Beauty in nature competition, SWPP
2020 Plants forests and fungi Photographer of the year, SWPP
2020 1st place Close up photography round APOTY 
2020 IGPOTY - Beauty of plants 3rd place
2020 IGPOTY - Still life highly commended
2020 CUPOTY images shortlisted in Floral and Animal categories
2019 National photographic society - Photographer of the year
Numerous Gold and HC awards with the NPS & SWPP in their monthly competitions
Licentiate with SWPP 2010
Associateship SINWP ( nature & wildlife) SWPP 2011